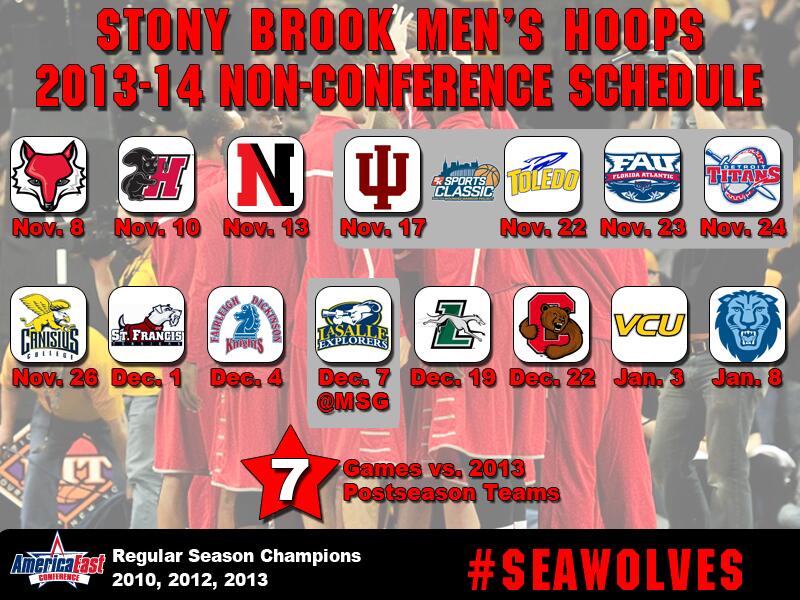 Stony Brook Men's Basketball announces 2013-14 non-conference schedule
NON CONFERENCE SCHEDULE
For immediate release - August 13, 2013
Stony Brook, N.Y. - Seven games against teams that advanced to national postseason tournaments in 2013, a trip to Madison Square Garden and an appearance in a national preseason tournament highlight the Stony Brook men's basketball team's 2013-14 non-conference schedule, which includes games against Big Ten member Indiana and Atlantic 10 teams La Salle and VCU, head coach Steve Pikiell announced Tuesday.
"Our non-conference schedule has an excellent mix of high-profile opponents, teams with recent postseason success and rivals from the New York City area," Pikiell said. "We are excited to be facing quality opponents day in and day out, and we expect this competitive schedule will help us prepare for the America East conference schedule and the America East Championship. We are also honored to once again be invited to play at Madison Square Garden, the mecca of college basketball, and to be invited to participate in the 2K Sports Classic, which supports a worthy cause."
In total, seven of Stony Brook's 14 Div. I opponents won 20 or more games last season. Two of them played in the NCAA Tournament Sweet 16 and a third was in the NCAA Tournament Round of 32.
The 2013-14 regular season will commence at the friendly confines of historic Pritchard Gymnasium as the team plays its final season there before moving to Stony Brook Arena, Long Island's newest athletic and entertainment destination. The Seawolves play Marist in their home opener Friday, Nov. 8. The team will then host Haverford College on Nov. 10 and defending CAA regular season champion Northeastern Nov. 13. The Huskies took the CAA crown with a 14-4 conference record and advanced to the NIT for the third time in program history.
Stony Brook will then participate in the 2K Sports Classic benefitting the Wounded Warrior Project. The tournament begins with a regional round at Indiana on Nov. 17. The Seawolves will face the defending Big Ten regular season champion Hoosiers at Assembly Hall for the second time in three seasons. The Hoosiers finished 2012-13 with a 29-7 record and an appearance in the NCAA Tournament Sweet 16.
The Seawolves will then move on to a subregional of the 2K Sports Classic on the University of Detroit Mercy campus. Stony Brook will face Toledo, Florida Atlantic and host Detroit, which was an NIT team in 2013, on back-to-back-to-back days Nov. 22-24.
Stony Brook concludes the month of November with a road game at Canisius Nov. 26. The Golden Griffins, whom the Seawolves defeated at home last season, were a 20-win team in 2012-13 and advanced to the quarterfinals of the CollegeInsider.com Tournament.
Stony Brook opens December with home contests against St. Francis Brooklyn (Dec. 1) and Fairleigh Dickinson (Dec. 4). The Seawolves will then head back to Madison Square Garden to play La Salle as part of the MSG Holiday Festival, Stony Brook's second appearance at The Garden in the last three seasons. The Explorers made noise in 2012-13 by advancing to the NCAA Tournament Sweet 16 as a 13-seed. The 11 a.m. game at The Garden will be followed by St. John's vs. Fordham.
Following a break for final exams, the Seawolves resume action at Loyola Maryland on Dec. 19 against a Greyhounds squad that won 23 games and advanced to the CollegeInsider.com Tournament quarterfinals last season. Stony Brook will then play its final game of the month Dec. 22 at home against Cornell.
The Seawolves wrap up the non-conference slate Jan. 3 at VCU and Jan. 8 at Columbia. Stony Brook will face a Rams team that won 27 games and advanced to the NCAA Tournament third round last season.
Pikiell is entering his ninth season as head coach and recently signed a contract extension that will keep him at Stony Brook through the 2017-18 season. He returns seven letterwinners and three redshirt freshmen from last season's team that went 25-8, captured the America East regular season championship for the third time in four seasons and advanced to the second round of the NIT.
The entire 2013-14 Seawolves schedule, including the 16-game America East slate, will be released on a later date.
The Stony Brook ticket office is currently accepting deposits for 2013-14 season tickets. All active men's basketball season ticket holders will have priority access to tickets to the new Stony Brook Arena, which will open for the 2014-15 season. For more information on tickets, call (631) 632-WOLF.
For more information on Stony Brook Athletics, visit GoSeawolves.org and follow on Twitter @SBAthletics.
2013-14 Stony Brook Men's Basketball Non-Conference Schedule
November
Fri. 8 - MARIST - TBA
Sun. 10 - HAVERFORD - 2 p.m.
Wed. 13 - NORTHEASTERN - 7 p.m.
Sun. 17 - at Indiana ! - TBA
Fri. 22 - vs. Toledo # - 4:30 p.m.
Sat. 23 - vs. Florida Atlantic # - 3 p.m.
Sun. 24 - at Detroit # - 4 p.m.
Tue. 26 - at Canisius - TBA
December
Sun. 1 - ST. FRANCIS BROOKLYN - 2 p.m.
Wed. 4 - FAIRLEIGH DICKINSON - 7 p.m.
Sat. 7 - vs. La Salle $ - 11 a.m.
Thu. 19 - at Loyola Maryland - TBA
Sun. 22 - CORNELL - TBA
January
Fri. 3 - at VCU - TBA
Wed. 8 - at Columbia - 7 p.m.
All times Eastern and subject to change
Home games in CAPS at Pritchard Gymnasium
! 2KSports Classic Regional
# 2KSports Classic Subregional at University of Detroit
$ MSG Holiday Festival