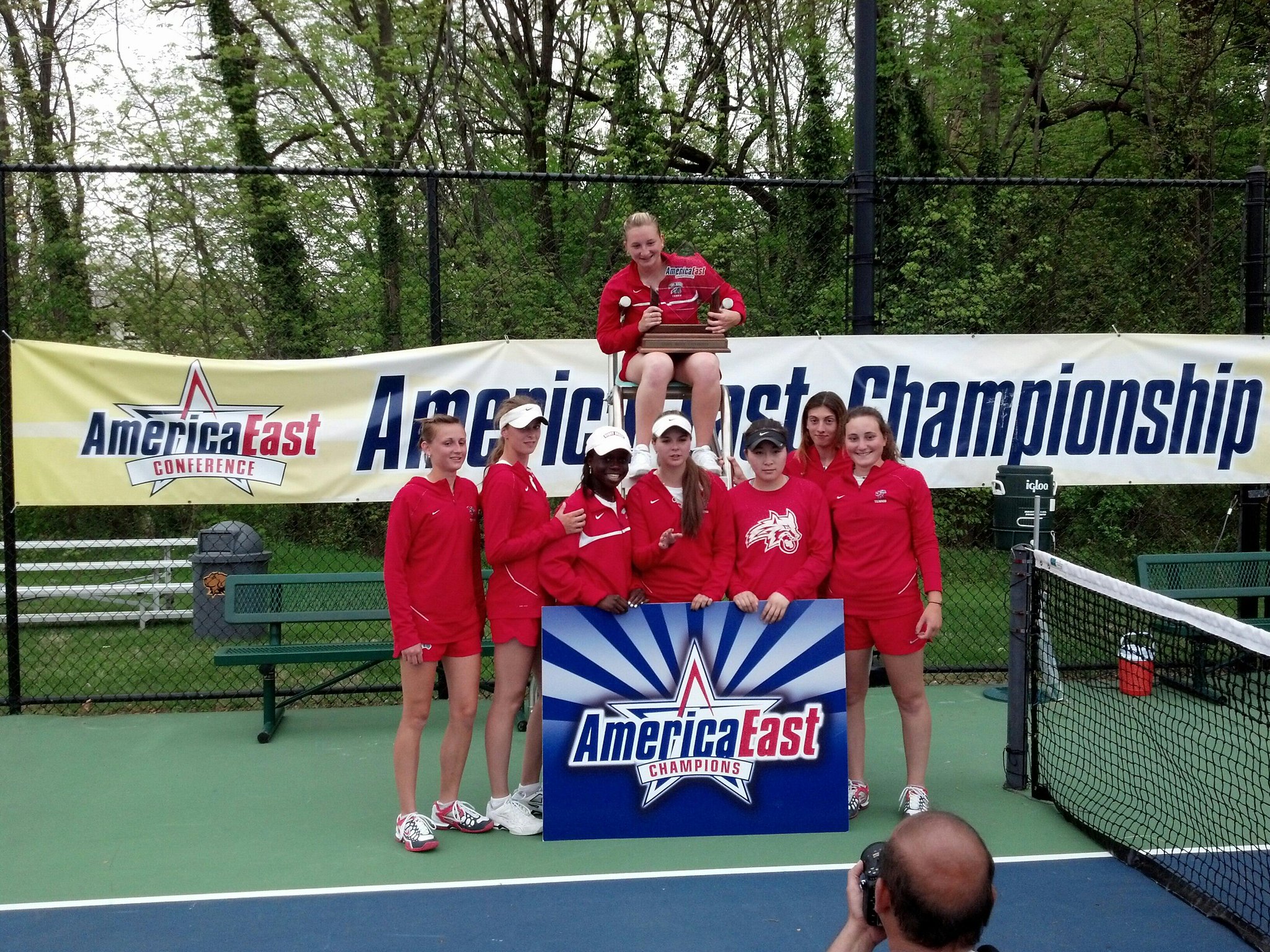 The Stony Brook women's tennis team will be making a second straight appearance in the NCAA Tournament after defeating Albany, 4-0, in the America East Championship finals. Senior Nini Lagvilava (Tbilisi, Georgia) was named the Championships' Most Outstanding Player.
Lagvilava, who's ranked 115th by the Intercollegiate Tennis Association, continued her dominance of opponents. She and sophomore Polina Movchan(Kiev, Ukraine) got things started off on a high note, winning 8-5 at No. 1 doubles.
Sophomore Cassandra Dix (Northamptonshire, United Kingdom) and freshman Becky Shtilkind (Brooklyn, N.Y.) combined to clinch the doubles point for the Seawolves (8-5), who were seeded first in the tournament.
Lagvilava and Movchan continued their outstanding singles play, putting Stony Brook up 2-0 with wins at No. 1 and No. 3 singles.
Dix, at No. 4 singles, was victorious at No. 4 singles, 6-1, 6-2, to send Stony Brook back to the NCAA Tournament.
Stony Brook will find out its next opponent when the NCAA reveals its selections on Tuesday, April 30 at 5:30 p.m.
Stony Brook 4, Albany 0
Doubles
1. Lagvilava/Movchan (SBU) def. Lopez/Scott (UA) 8-5
2. Altansarnai/Badoche (SBU) vs. Crummey/Santos-Bravo (UA) 3-5 (DNF)
3. Shtilkind/Dix (SBU) def. Hermans/Kukkonen (UA) 8-5
Singles
1. Lagvilava (SBU) def. Santos-Bravo (UA) 6-0, 6-1
2. Movchan (SBU) def. Lopez (UA) 6-2, 6-1
3. Altansarnai (SBU) vs. Scott (UA) 2-6, 3-2 (DNF)
4. Dix (SBU) def. Crummey (UA) 6-1, 6-2
5. Badoche (SBU) vs. Kukkonen (UA) 6-2, 5-5 (DNF)
6. Pike (SBU) vs. Hermans (UA) 6-2, 5-5 (DNF)