The Seawolves have the talent to play with anyone in college baseball
Updated:
June 14, 2012, 7:31 PM ET
By
Teddy Mitrosilis
| ESPN.com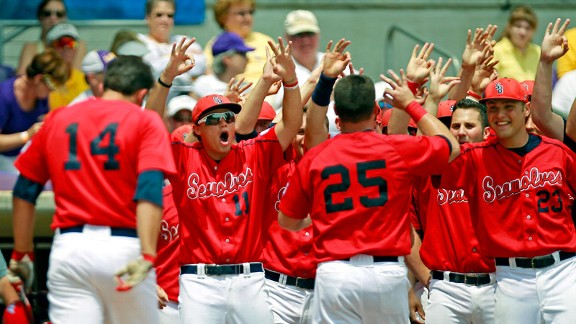 AP Photo/Gerald HerbertThe Seawolves play with a swagger that suggests they know they belong in Omaha.
Sometime around the fourth inning Sunday evening in Louisiana, a charming story turned a little bit clichéd. It was the Stony Brook Seawolves and the LSU Tigers and a thick nest of yellow shirts stuffed inside Alex Box Stadium in Baton Rouge. With Stony Brook catcher
Pat Cantwell
on third and third baseman
Willie Carmona
on first, Seawolves second baseman
Maxx Tissenbaum
knocked a double to center on a 3-2 pitch, driving in two more runs. Stony Brook led 6-1, and then word began trickling outward through the arteries of the Internet.
2012 NCAA baseball tournament

For complete coverage of the 2012 NCAA baseball tournament, from the first pitch of the regional round to the final pitch at the CWS in Omaha, turn to ESPN.com.
College sports home
•
Sherman: Let Rosenblatt rest in peace
•
DiRocco: UF hoping to break through
•
Mitrosilis: Stony Brook no fluke
•
Primer: Omaha field is set
•
Complete tourney schedule/results
Late on a Sunday with a prime-time Major League Baseball game airing, Game 3 of this super regional was secluded in the dimmed corners of television, but Twitter saw the smoke rising. Media and fans began typing messages to flip the channel because LSU was in trouble. Stony Brook still needed 18 outs, but the fact it was 18 outs from Omaha was amazing. This historic upset was brewing, the little Seawolves, the mighty Tigers; don't miss it.
One problem: This wasn't exactly
that
. Sure, there's a strong aura of improbability following Stony Brook after it beat LSU to reach the College World Series, and there's some truth to the "Cinderella" narrative that will echo until it's eliminated. But the misconception is that the narrative fits the talent of the 2012 Seawolves. It doesn't.
"How people perceive our program is something we can't control," Stony Brook head coach
Matt Senk
said. "We define ourselves."
On a conference call with reporters, Senk didn't entirely help matters. For starters, he dropped a "Hoosiers" reference. And when asked to compare his program to a prestigious one like LSU, he quipped, "We both swing DeMarini bats, and we swing them pretty well."
But look again at Stony Brook's path to Omaha, and you'll see that this is a team that belongs there.
Two weeks before the America East tournament began, some Stony Brook players began talking privately about the possibility of hosting an NCAA regional. Instead, the Seawolves were granted a No. 4 seed and sent to Coral Gables, Fla., home to a Miami program that has 23 CWS appearances and four national championships. Stony Brook, of course, had never stepped a spike in Omaha.
Stony Brook's top hitters
Nine Seawolves ranked by regular-season batting average.
| Player (Pos.) | BA | OBP | SLG |
| --- | --- | --- | --- |
| Travis Jankowski (CF) | .422 | .485 | .636 |
| Willie Carmona (3B) | .399 | .470 | .702 |
| Maxx Tissenbaum (2B) | .389 | .452 | .521 |
| Steven Goldstein (OF) | .344 | .418 | .503 |
| Kevin Krause (OF/DH) | .335 | .403 | .438 |
| Cole Peragine (SS) | .314 | .397 | .425 |
| Tanner Nivins (OF) | .304 | .373 | .417 |
| Pat Cantwell (C) | .296 | .400 | .398 |
| Kevin Courtney (1B) | .296 | .404 | .444 |
The Seawolves were unfazed. They battered the Hurricanes 10-2 in the first game, and their ace, America East pitcher of the year
Tyler Johnson
, pitched 6 1/3 innings.
"We prepared for a guy who had a mid-80s sinking fastball and a slider, and that report was right on," Miami hitting coach
Gino DiMare
said. "He ran it down and in to righties and kept it under our hands."
In the next four games, Stony Brook proved to be the kind of team it's been all year: a deep lineup, a strong defense, a pitching staff that commands the fastball and throws strikes with conviction, a group that carries a hard New York swagger.
"They had one of the best approaches I've ever called pitches against," said Central Florida head coach
Terry Rooney
, whose team faced the Seawolves three times in Coral Gables (and lost twice). "They were never fooled, rarely out front, and if you made a mistake, they hit it."
The Seawolves hit early, they hit with the bases empty, they hit with runners on, they just hit. They don't concede counts.
"They did as good a job with two strikes as we played all year," DiMare said. "They would've stacked right at the top of the ACC this year, absolutely."
There's a perception that because the Seawolves lack an abundance of premier pro prospects, their overall level of talent runs shallow. Some of that comes from their playing on an outstretched fingertip of the Northeast, sure, but sometimes professional projection is mistaken for the ability to pitch and catch and hit and win at the amateur level. Nothing indicates that Stony Brook lacks elite college talent.
"They don't have a ton from a pro perspective, but no question they're talented," said an NL area scout who watched Stony Brook numerous times this year. "This is kind of a perfect storm. I totally believe in them."
Last summer, the Seawolves sent seven players to the prestigious Cape Cod League for summer ball, including center fielder
Travis Jankowski
, who won that league's MVP award and was drafted in the supplemental first round by the San Diego Padres this year. Seven Seawolves were selected in the 2012 draft: Jankowski, Cantwell (third round, Rangers), Tissenbaum (11th, Padres), Carmona (11th, Phillies), pitcher
James Campbell
(12th, Dodgers), pitcher
Jasvir Rakkar
(26th, Cubs) and Johnson (33rd, Athletics)
Among CWS participants, that's more than Arizona (five), South Carolina (five) and Kent State (six) and as many as UCLA and Florida State. Stony Brook trails Arkansas by one and Florida by two.
Arms to know
Five Seawolves pitchers who will play key roles in Omaha, including their innings and ERA for the regular season and postseason.
| Player | Reg. IP | Reg. ERA | Post. IP | Post. ERA |
| --- | --- | --- | --- | --- |
| Tyler Johnson (RHP) | 97.2 | 1.94 | 21.2 | 2.49 |
| Brandon McNitt (RHP) | 100.2 | 2.50 | 13 | 4.15 |
| Frankie Vanderka (RHP) | 64.2 | 2.37 | 16 | 2.81 |
| James Campbell (RHP) | 55.1 | 3.09 | 8.2 | 3.12 |
| Joshua Mason (RHP) | 35 | 3.34 | 5.2 | 3.18 |
"Their talent is in the upper echelon in college baseball," Rooney said. "I'm telling you, without question, they are one of the best teams in the entire country."
So was the barrage of hits in Baton Rouge -- 35 in three games -- really a surprise? Was Carmona, who's hitting .514 in the postseason and was the super regional most outstanding player, a shock? Were Johnson and sophomore
Frankie Vanderka
, who threw complete games in the last two games against LSU, respectively, that surprising? Perhaps a little. Johnson struck out one Tiger, Vanderka lived on an 82-84 mph fastball and flipped over a breaking ball, and, well, that kind of stuff doesn't usually evade the bats of an LSU, doesn't methodically shutter the roaring mouths of an Alex Box crowd.
"Look, we knew they were better than their seed,"
Alan Dunn
, LSU's pitching coach, said two days after the Tigers were eliminated. "The offense was known for breaking the backs of opponents with two outs, and when your pitchers don't have upper-echelon velocity, you have to have command. And when you command both sides of the plate and can throw a secondary pitch for strikes, you can win at any level, and that's what they did. They all play with a ton of confidence."
Before Game 1 against LSU, a scout texted Jankowski, wishing the Seawolves good luck against the Tigers. "Watch us take it to LSU," Jankowski texted back. Amazingly, Stony Brook carried that looseness into the series, into an environment it had never seen.
"We told them to just embrace it and enjoy it," said
Joe Pennucci
, Stony Brook's hitting coach. "So at LSU they said, '11,000 people? Let's do this.' They were just so happy to be in that environment. When you have talented players who compete, it leads to success. It has to."
After Stony Brook closed out LSU and clinched its CWS berth, the Seawolves couldn't stop celebrating. LSU fans told them to run around the bases, so they did. They told them to take as many pictures as possible, so they did. For a moment, the sobering inevitability of this story some want to fit for a slipper could wait.
Stony Brook will play UCLA on Friday. The Seawolves might win; they might lose. They'll face Arizona or Florida State after that. They might be 2-0; they might be back home on Long Island, N.Y., too soon, feeling like they hardly left. Nothing at this point can dampen the ride. Any kind of run will bring calls of "Cinderella." In most instances, that narrative would be true.
But this team, these Seawolves, they really can play a little bit, too.
Teddy Mitrosilis is an editor for ESPN Insider. He played college baseball at Long Beach (Calif.) CC and the University of North Carolina at Chapel Hill, where he graduated with a degree in journalism. You can follow him on Twitter here.