Penn State
has hired
Boston University
's Patrick Chambers as its next coach.
A posting on the website for Boston University confirmed the move late Friday afternoon.
"I was really impressed with what, I think, is a newfound commitment to the basketball program, to being successful and to winning championships," Chambers said. "Things are going to change, in my mind, and I'm really excited with the direction this program is going."
[+] Enlarge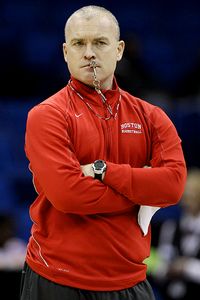 Chambers has been at BU for two seasons, and this year led the team to the America East title and an NCAA tournament berth.
Chambers is a logical hire for Penn State, thanks to his deep Philadelphia roots. A Philly native, he spent five seasons with Jay Wright at
Villanova
, moving up to be Wright's associate head coach before moving on to BU.
Prior to Villanova, he coached at heralded Episcopal Academy and played under Hall of Famer Herb Magee at Philadelphia University.
"We need to go get good players," Chambers said. "We need to compete with the Big Ten and the Big East for the best of the best, to get pros every few years but to also be able to find those Dante Cunninghams, those Dwayne Andersons, those guys that are under the radar, a little bit.
"Obviously Philly is huge. There are so many great players there and we need to be a presence there. But I also think we shouldn't limit ourselves. We have the entire East Coast -- Virginia, (Washington) DC, Maryland and now you can throw in Boston as the cherry on top."
Earlier on Friday,
Wisconsin-Milwaukee
coach Rob Jeter released a statement saying he had withdrawn his name from consideration at Penn State.
Athletic director Tim Curley also interviewed Duquesne coach Ron Everhart.
Penn State was in need of a new coach after Ed DeChellis abruptly left to become the coach at Navy. DeChellis this year led the Nittany Lions to their first NCAA tournament appearance in 10 years.
"I think (the program) is a sleeping giant, in my mind," Chambers said. "They have everything they need. They have more than Villanova had. Everything that they need to be a successful program is there. Ed did a great job and I think there isn't much for me to change. I just hope that maybe I can bring that new energy, that passion to the program."