Life In The Fast Lane - Jon Lane...YesNetwork.com BLOG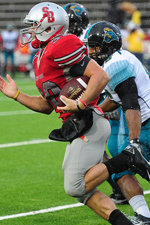 The answer isn't cut and dry. In fact there's a literal, figurative and mythical explanation behind the chosen moniker of the State University of Stony Brook. This season bright red T-shirts have been distributed to show off at all athletic events. The front asks the question. Turn it around and the answer exclaims "I'm a Seawolf!"
I was able to experience first-hand the power of the Seawolf and a rising program while visiting LaValle Stadium on a huge campus located on the north shore of Suffolk County, Long Island, New York. Literally it felt like the power of the sea wreaked havoc over the Tri-State area on this Saturday afternoon. While parts of New Jersey, Connecticut and even New York City were belted with an unprecedented Nor'easter two days before Halloween, eastern Long Island got lucky with heavy winds and chilling rain – and the Stony Brook Seawolves football team was obligated to face Coastal Carolina under those conditions.
New York Jets coach Rex Ryan loves to brag about (when it's working) his "Ground and Pound" offense. A Seawolves team that used a balanced attack to average 44 points in his previous four games netted not a single passing yard. Rather, they made the best of Mother Nature's wrath by gaining a Big South Conference single-game record 446 yards in a 42-0 victory. Senior Brock Jackolski rushed for a career-high 193 yards and a touchdown. Junior Miguel Maysonet, Jackolski's tag-team partner who thanks to the demise of the Hofstra football program followed him to Stony Brook as transfers, ran for 193 yards and three scores.
The Seawolves are winners of five straight and seemed destined for a showdown against Liberty November 19 at LaValle Stadium to decide the Big South Championship. When you consider the success of the basketball program – the last two seasons has seen the team earn an NIT berth and fall two points short of reaching the NCAA dance – it's no hyperbole to suggest that the major sports are growing in stature while generating attention from the media and community.
Longtime Minnesota Twins closer and Stony Brook alum (1997) Joe Nathan was honored in a ribbon-cutting ceremony Saturday morning
to christen Joe Nathan Field
thanks to Nathan's $500,000 lead gift for the construction of the facility. Speaking with Nathan and his coach Matt Senk, with the university 22 seasons and counting, each were amazed at how the department has developed from the ground up. Senk wore an astonished expression when he reminisced about his earlier years when the field was more like a park and the program barely a blip.
(Nathan, by the way, is a free agent. He begins his offseason throwing program this week and said he's considering all options, including the Mets.)
Football's performance continues to help the university peak. Jackolski became the 10th player in Big South history with more than 2,000 yards on the ground and moved into third place all-time in school history with 21 rushing touchdowns. He and Maysonet remind me of Thunder and Lightning (think Ron Dayne and Tiki Barber or Brandon Jacobs and Ahmad Bradshaw), and each could conceivably become the first Seawolf to make it to the NFL.
It can happen. Coastal Carolina currently has three alumni in the NFL, Mike Tolbert (Chargers), Jerome Simpson (Bengals) and Tyler Thigpen (Bills). Sixteen years ago nobody gave Hofstra a second thought until Wayne Chrebet made the Jets as an undrafted free agent and played for 11 seasons. Once Chrebet became a star the floodgates opened. Marques Colston is excelling in New Orleans and won a Super Bowl with the Saints.
So what is a Seawolf? Technically it's
a marine fish
, the largest of the wolf fish family Anarhichadidae. According to University records, the change was made once Stony Brook became a Division I program and out of 200 suggestions the Seawolf was chosen.
School lore
views it as a sea creature that brings good luck to anyone to lay eyes on it.
As football proved Saturday under the worst of conditions, seeing is believing. One fan watching from the VIP lounge took his 12-year-old son to the game. His knowledge of the game was impeccable and passion for it remarkable. Speaking with me and my dad, he broke down the game like an analyst. It turns out that man was former Giants punter Sean Landeta, who defied the Nor'easter to make the trip from Manhasset. Landeta, who played at Towson State, is more proof that small schools can forge big dreams and create major success. On his way out Landeta was asked about Jackolski and Maysonet. "Anything can happen," he responded with a wink and a smile. If that happens more will be asking what on earth is a Seawolf? A quick study of a program's rise is a great start.